T1 Markets is a derivates exchange regulated by CySec (Cyprus Securities and Exchange Commission) for trading stocks, indices, precious metals, and commodities. The platform also lets you trade in cryptocurrency CFD and realize profits even when an asset's price decreases. As a trusted broker operated by General Capital Brokers Ltd, T1Markets supports multiple payment types and allows trading via web and mobile.
Trading Software
Built on the industry-certified MT4 (MetaTrader 4) WebTrader, T1 Markets offers user-friendly and more streamlined trading experiences across mobile, PC, and Mac. The platform rarely suffers slippage or downtime. Expect your trading orders to execute faster thanks to the platform's bank-grade infrastructure and over 500GB of bandwidth. As a professional trader, you get access to an economic calendar and over 60 different indicators to boost your portfolio.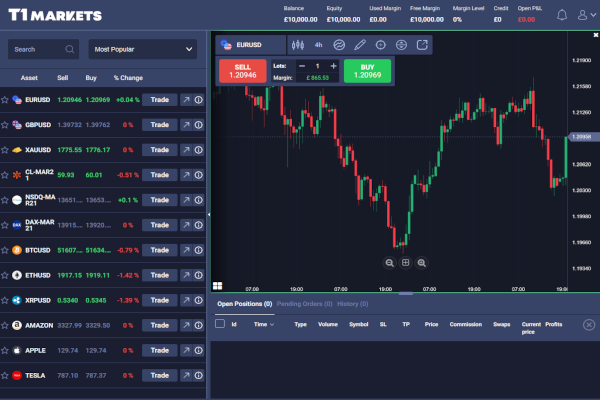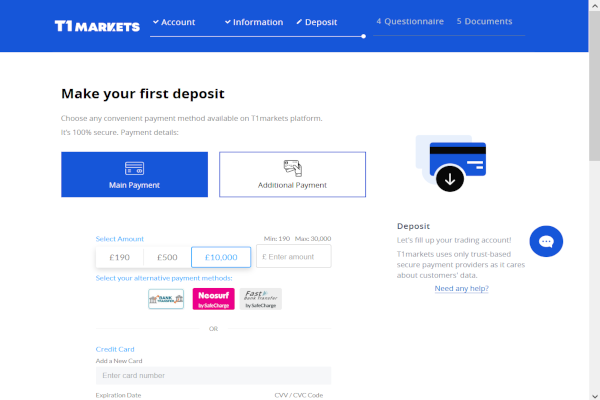 Promotions
In compliance with regulatory trading restrictions, promotions and bonuses are not part of T1 Markets' products or incentives. However, users choose from 3 different accounts (Platinum, Gold, and Silver). Each account has various benefits and features, including access to VPS services, webinars and videos, and swap discounts.
Trading on T1 Markets is commission-free with even swaps, spreads, and other premium fees. You also access a demo trading account on signup that allows you to try out the platform's features. The broker even offers Islamic swap-free accounts to Muslim clients. These accounts have zero rollover interests.
Payments
T1 Markets lets you deposit funds to your account via Klarna, bank wire transfers, credit/debit cards for free. Withdrawals done through bank wires cost 15 euros. You can make deposits from your dashboard after logging in to the platform. T1Markets also lets you withdraw funds from your portal to an account with the same beneficial owner and name.
Assets & Features
With the MT4 WebTrader Platform, T1 Markets targets users who access its services on desktop and mobile devices. The platform offers features such as built-in support, real-time quotes, multiple execution modes, and 30 technical indicators. It, however, doesn't support downloads. You can even make your trades using the MT4 mobile trading app designed for iOS and Android systems. The mobile apps offer on-the-go access, real-time prices, access to technical analysis tools, and nine different timeframes. You can find their download links on the Apple Appstore, Google PlayStore, and T1 Markets' website.
Support
Access live customer support from T1 Markets from 7 AM to 5 PM from Monday to Friday through different channels. They include live chat, telephone, contact form, and email. The broker's customer support staff promptly responds to users' queries and concerns regarding their trading experiences. Part of T1 Markets' mission is to support traders throughout their journey for an exceptional customer experience. Users get a personalized platform walkthrough after signing up for an account. They also receive emails focusing on service changes and enhancements such as pricing, margin, and regulatory changes.
With T1 Markets, traders get access to over 300 financial CFD instruments revolving around precious metals, stocks, indices, commodities, cryptocurrency, and forex. The dedicated web and mobile trading applications make trader's work convenient and more straightforward. T1 Markets also offers informative training materials and prompt customer support to users. With these and many more benefits, it's clear that T1 Markets is a reliable trading broker. Hone your trading skills today by joining the platform.