The HighLow website doesn't look like your typical Binary Options site. It's very clean, clear, and unintimidating. You won't feel like you're being rushed or pressured into making a big investment there. There are certainly some benefits to joining, however, such as their great trading software, high payouts, Australia licensing, and a $50 cash-back incentive for verifying your new account.
Trading Software
HighLow's main trading platform is web-based. You can open it in your browser. There are also Android and App Store versions available for mobile users. It's well designed, particularly with the colour scheme that stands out and is easy to read. It also executes very well, enabling you to make trades quickly. You can try a free demo without signing up.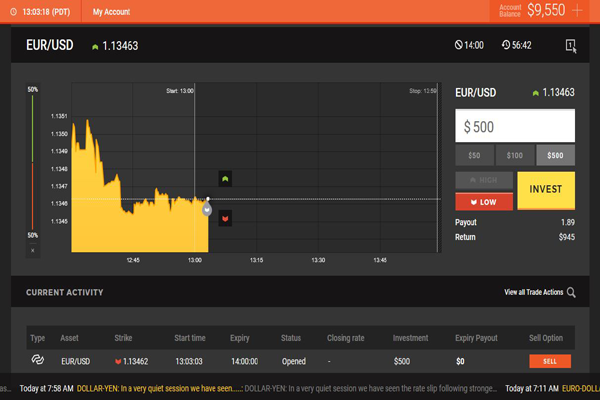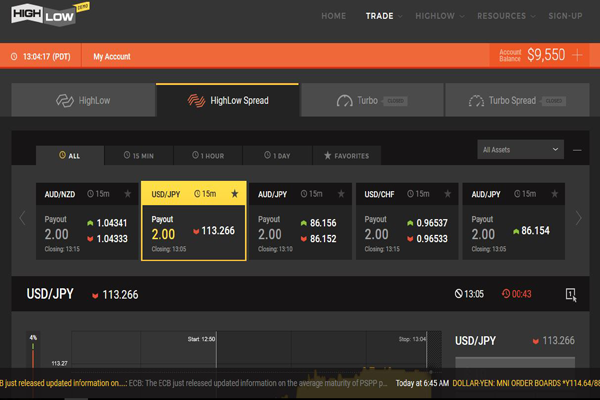 Promotions
Once approved, your account will be credited with a free $50 cash-back bonus! There is no deposit required to get it. Cash-back is also offered as part of HighLow's loyalty program for regular users. This VIP program rewards points for reaching certain trading volumes in a month. Cash-back is automatically claimed to your regular balance when you lose a trade.
Payments
Funding your HighLow account is secure and regulated, with a minimum deposit of just $50. They are one of the only Binary Options platforms licensed by Australia's AFS. This means your funds will be safe and not used to hedge the underlying market. This regulation also means that there is a more difficult approval process than usual. Two pieces of ID are required to confirm your account.





Assets & Features
ging from 15 minutes to 1 day with payouts up to 190%. "HighLow Spread" presents a price range and will reward you if the asset price finishes above or below that range before it closes. It has slightly higher payouts of up to 200%. There are also Turbo versions of the "HighLow" and "HighLow Spread" option types, which range from 30 seconds to 5 minutes. All 4 of these option types can be used to trade major currency pairs, Gold, and Indices.
Support
HighLow have an extensive FAQ section to answer most of the common questions they get. You can look through that first, and if you still have any questions you can reach their offices by phone or create a support ticket on the website. Support is very professional and usually fast to respond.
When you show interest in trading online, you will often encounter websites and brokers who use aggressive sales tactics. They might tell you to "Invest NOW", and that you can "Get Rich Quick". This type of pressure might have motivated you to make a bad investment in the past, or turned you off of it altogether. If you're looking to avoid an experience like that, HighLow is probably for you.